Options for editing custom data or user-defined fields in SOLO Server for Protection PLUS 5 SDK License Files
Posted by Mike W, Last modified by Tanner O on 04 June 2018 10:50 AM
Protection PLUS 5 SDK has significant extensibility with user-defined fields. It is possible to store these license parameters in the SOLO Server license database and securely send the parameters down during activation. This article will describe the types of customized data as well as the three options for securely sending down this data in the Protection PLUS 5 SDK License File.
Watch our tutorial video on Customizing License Data! - This gives an overview of the three ways to customize licensing data, and how to implement each option. You will learn:
Which approach to custom data best suits your requirements
Details and advantages of each option:

User-Defined Fields (fixed set of fields)
Custom Parameters Sets (flexible set of fields)
Custom Development (flexible set of fields, supports custom business logic)

How to make it easier to configure and update custom data and license parameters
Custom Data
There is a Custom Data field that is a free-form string field that can be used to store essentially an unlimited amount of user-defined data, and we recommend using XML formatted data. You can paste in XML data and then your software can read this data from the License File after an activation or refresh with SOLO Server. There is also a Custom Data field at the Product Option or Product level.
Each license also has a fixed amount of User-Defined fields that you can use, and these fields may suit your needs if you don't need an extensive amount of parameters.
Both the CustomData and User-Defined fields are sent down in the license file during activation and license refreshes.
Custom Parameter Sets
Custom Parameter Sets were added in SOLO Server build 1.18.1.0, and make it much easier to define and update customized licensing data. For a simple one-level structure, instead of dealing with XML formatted text, you can define a set of parameters that will generate the XML for you automatically.
You can add as many fields as you need for Boolean, Date, Float, Integer, and String data. You can set the parameters when a new license is created, or you can update them after a license is created. When saving, the custom parameter data is serialized to XML and stored on the License Custom Data field on the license (just as if you had pasted in the XML data).
This makes it much easier for your customer service representatives to manage and update licenses! You can clearly see the current parameters for a license, and it is easy to update those parameters when needed.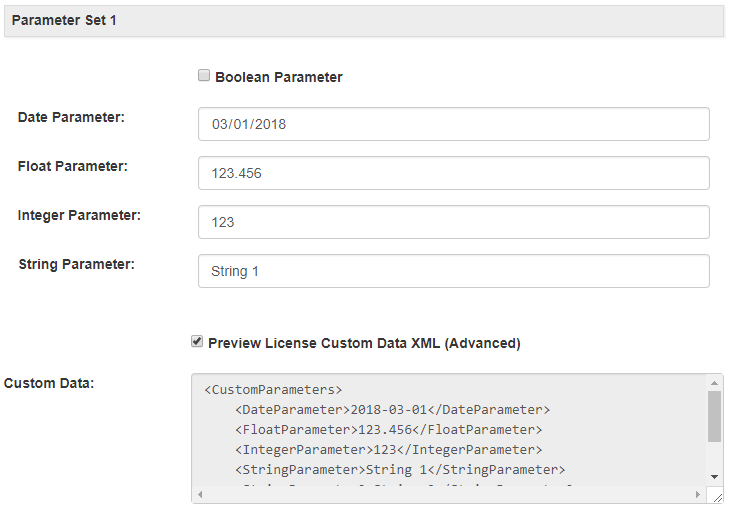 For additional information on using and implementing custom parameters sets, view the Custom License Parameters manual topic.
User Defined Fields
The User-Defined Fields tab were available before the Custom Data field was added, and offer a fixed number of fields to store customized license data.
Go to a License Details page in SOLO Server and click on the User-Defined Fields tab at the bottom. There are several user-defined string, integer, floating point, and date fields. Click the Edit button to modify the values.
One advantage of User-Defined fields is that you can search them for specific values through the SOLO Server menu Customers / Advanced Search.
You can also customize the license labels for the User-Defined Fields.
Custom Development
If your company has advanced business logic requirements for custom license data, our professional service team can add a button on the License Details page that connects to a fully-customized Edit License Parameters page:
This page can have customized business logic and a user-interface defined 100% by you. The Edit License Parameters page can serialize a more complex hierarchy of XML data into the Custom Data field, and it can also update license pre-defined and User-Defined fields.
 An example page with many license parameters can be seen below:
Summary
There are various ways to define custom license data when using Protection PLUS 5 SDK and SOLO Server Automation. In all cases, when your software is activated or refreshed, the custom parameters configured on that license are included with the license file that is sent down.
 If you have any questions regarding which approach is best for you, please contact us.
---