Customer License Portal
The Customer License Portal is a standard feature of SOLO Server that allows your customers to view and manage their licenses and purchases through various options.The self-service functionality is convenient for customers, and also results in less work for your sales and support team.
Here are screenshots of the default portal, which can be customized to match the look and feel of your website: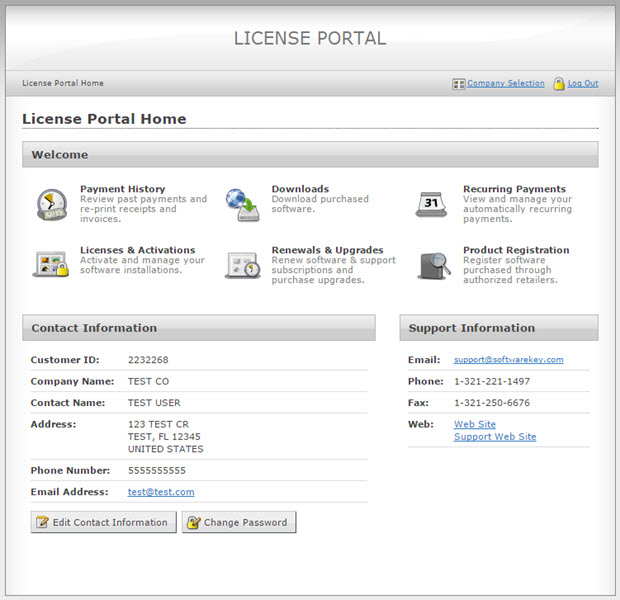 Since we use SOLO Server for our own customers, we have our branded version of the Customer License Portal below, which our customers can access by clicking on the Login / Download & Renew Software menu at the top of our website.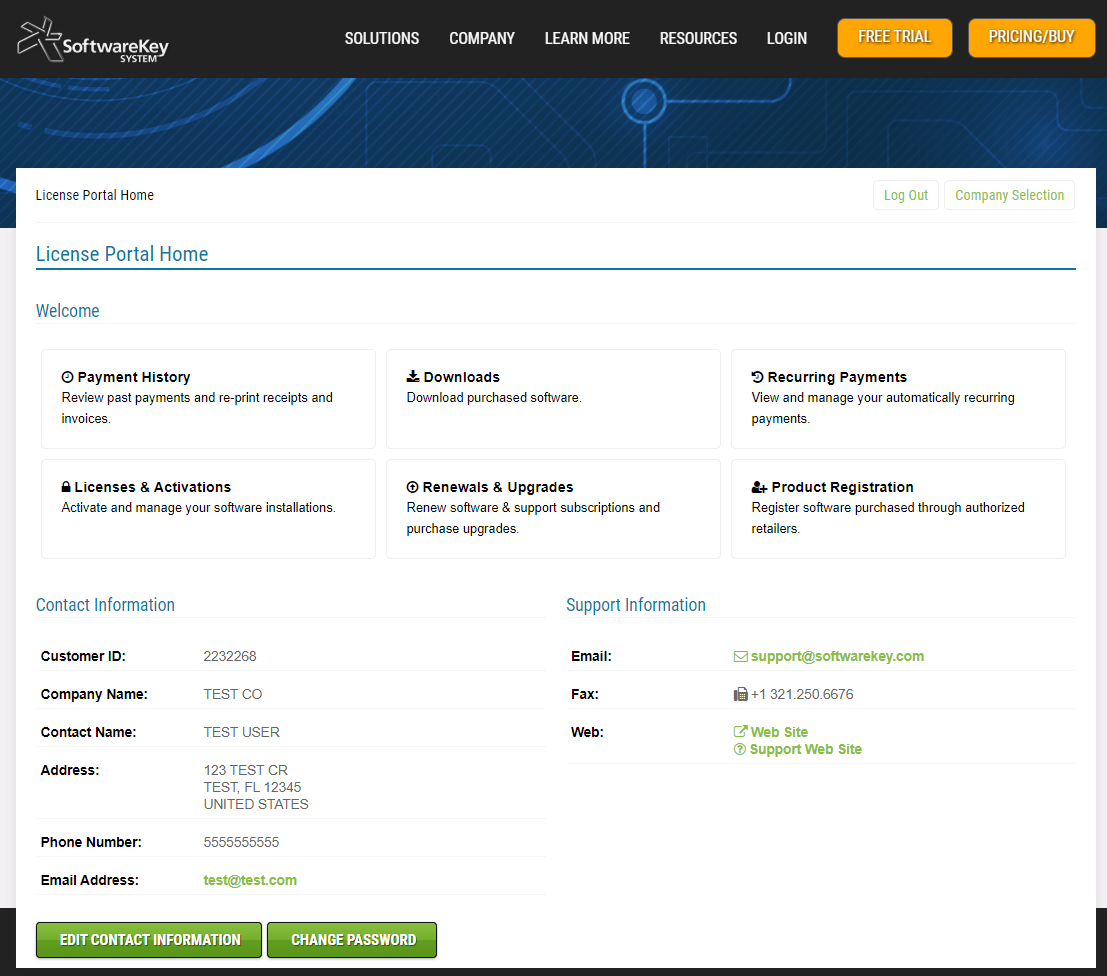 As a SOLO Server author, you can easily provide this same functionality and custom branding to your own customers. You can learn about how to do this by viewing the Customer License Portal manual topics.
We have also provided this template as a sample which you can copy and adjust to use on your own account for both the Customer License Portal and the integrated shopping cart.
Customer License Portal Dashboard Buttons
There are six modules in the Customer License Portal that you can choose to enable or disable. This is done through the SOLO Server menu Configure / Customer License Portal Options. Each section will also link to additional topics for more details information and tips
Payment History
The payment history allows the customer to review past payments and re-print receipts and invoices. If you are not using SOLO Server's invoices or integrated e-Commerce, you can disable this option.

Licenses & Activations
The customer can view their licenses, installation history, and other license information you want to display. Each Licensed ID will have a defined number of computers/users on which a license can be activated, which are the Activations Left.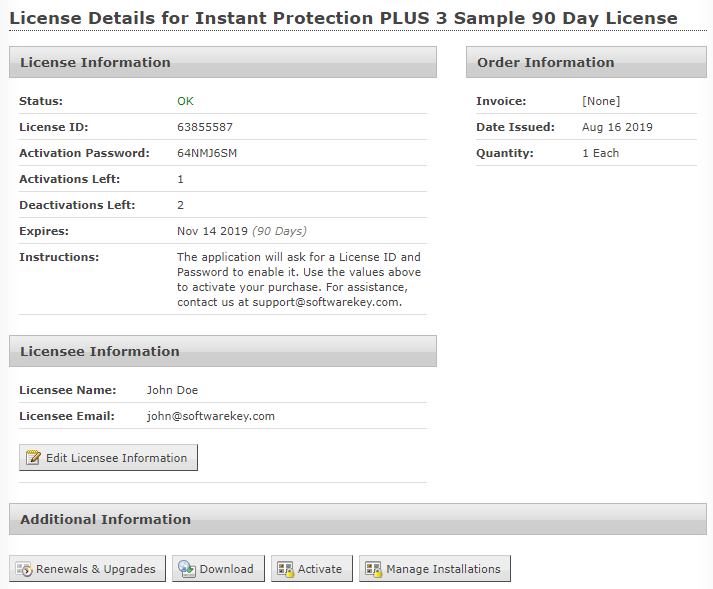 You can give customers the option view and manage their installations, including the ability to remotely deactivate an installation, which increments the Activation Left count so it can be used on another machine. This is especially useful if a computer crashed or was formatted and the customer can no longer initiate the deactivation directly through your software.

If using our Cloud-Controlled Network Floating License feature, your customers can view usage reports and view and/or manage their currently active sessions in the Customer License Portal.
When using Protection PLUS 5 SDK with custom parameter sets, the custom license data is displayed in the Portal so customers can see the custom entitlements that are configured for their particular license.
Customers can also be given the option to process a manual/offline trigger code activation through the Customer License Portal, which allows them to activate a disconnected device as long as they can access a web browser through another computer.
Downloads
The availability of downloads is based on the licenses the customer purchased. Access to a download can also be based upon an expiration date, which can either be the expiration date of the license, or it can just be a maintenance/support expiration date.

Renewals & Upgrades
When using SOLO Server's integrated e-Commerce, license renewals and upgrades can be offered to existing customers based on the licenses they already have. A customer can renew their original license subscription and does not need to purchase and activate with a new license. You can define what requirements need to be met for a renewal or upgrade to be available through Product Option Rules, such as not allowing the customer to purchase a renewal if their license has been expired for more than 30 days.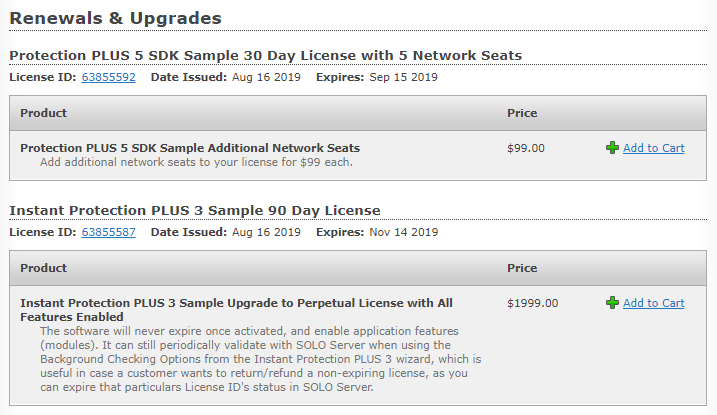 Recurring Payments
When using SOLO Server's integrated e-Commerce and a compatible payment gateway such as PayPal Pro PayFlow Edition, you can process automatically recurring payments. With each successful payment, the subscription will be renewed, and the software will continue to run. If a payment fails, you can configure the license to be disabled or simply notify. SOLO Server can also automatically send an email to the customer letting them know if their credit card is about to expire and needs to be updated. Customers can use the Portal to update their credit card information or cancel their subscription.

Product Registration
The customer can register licenses purchased through authorized retailers or distributors, which adds the license(s) to their customer account.